The ADNI clinical dataset is comprised of clinical information about each subject including recruitment, demographics, physical examinations, and cognitive assessment data. This dataset also includes CSF concentration and ratio data for these biomarkers: Tau, AB1-42, and P-tau181P. The full set of clinical data may be downloaded in bulk as comma separated values (CSV) files.
The chart below summarizes clinical data that is collected.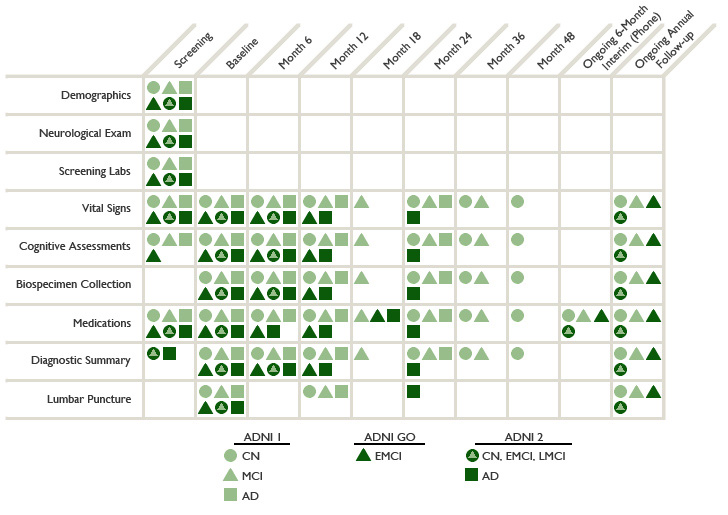 Documents| Data Inventory | Study Schedule (xls)
Note: Continuing subjects from ADNI1 and ADNI GO receive an additional baseline screening at the start of their ADNI 2 participation. They are evaluated on an annual basis, rather than following the same regimen as new ADNI 2 participants. All ADNI 2 subjects are followed for 54 months from the baseline.
ADNI clinical data are managed and supplied by the Bioinformatics and Biostatistics Laboratory at the University of California, San Diego in partnership with the Alzheimer's Disease Cooperative Study. Supplementary information about the ADNI project is available at their website. Questions about clinical data should be directed to adni@ucsd.edu.
Study Update: Clinical Data
The collection of ADNI clinical data has remained largely consistent throughout all three phases of the ADNI study. Starting with ADNI GO and continuing into ADNI2, information on participant's height was collected and participants were screened using the Montreal Cognitive Assessment (MoCA). This assessment was also given to ADNI1 participants who continued into ADNI GO and ADNI2.